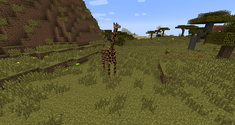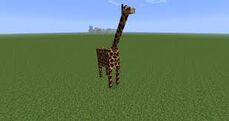 Giraffes are passive mobs that can only be obtained by mods. They have 10 health points.
Spawning
Giraffes naturally spawn in the Savannah Biome. The player can also spawn them artificially through a Giraffe Spawn Egg.
Drops
Giraffes drop Leather and Beef when killed.
Breeding
Giraffes can be bred using Wheat. The player can feed Wheat to one Giraffe, and then to another, and they will breed. Spawning a Baby Giraffe.
Trivia
Giraffes can be obtained in the LotsOMobs Mod. They can also be found in the Endangered Animals Mod, Wild and Zoo ANimals Mod, and the Savannah Adventure Add-On for MCPE.