Hell Dogs are mobs that can only be obtained through mods. They share many similarities to normal Wolves, but instead have red skin. Hell Dogs cannot be tamed and are hostile even when not provoked.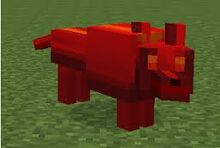 Spawn
Hell Dogs spawn naturally in the Nether dimension. They can also be spawned with a Hell Dog Spawn Egg.
Combat
A Diamond Sword is recommended to fight Hell Dogs due to their high health. (110 health points). Armor is also recommended, while potions of Harming/Healing, Regeneration/Strength can make the fight easier.
Drops
Hell Dogs, when killed, will drop 5 Steaks, and rarely, an Enchanted Diamond Axe.
Trivia