Skele-tons are mobs that can be only obtained through mods.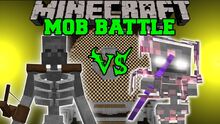 Attack
Skele-tons can hold a bow like Skeletons, except that their bow is enchanted. They deal 3-4 damage at non armed players.
Combat
A bow is recommended to fight skele-tons, as the player should not get close to them. However, a diamond sword can be useful too. Armor can also make the fight easier, while potions of healing/harming can be good too.
Trivia
They do not drop anything when killed.
They have 30 more life than normal skeletons (30 health points).