Skeleton Friend is a mob that can be obtained only through mods. It attacks the player with a bow.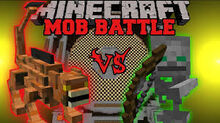 Appearance
Skeleton friend looks just like normal Skeletons. The only exception is that their eyes are green and have more health (30 health points). They hold a bow like skeletons also do.
Attack
Skeleton friends when spot the player, they shoot bows at him/her and like skeletons, they can circle the player. They deal 5 damage at non-armed players.
Combat
An iron sword or above is recommended when fighting skeleton friends. However, like skeletons, a bow will work better at killing them.
Drops
Skeleton friends when killed, they drop 0-2 bones.
Trivia
They deal more damage than normal skeletons and have more life than them.
The spawn egg can be obtained by anti plant virus mod.