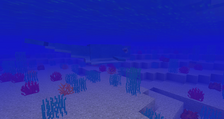 Whales are passive mobs that can only be obtained through mods. They have 15 hearts.
Spawning
Whales spawn naturally in Oceans. The player can spawn them artificially through a Whale Spawn Egg.
Drops
They drop Whale Meat when killed.
Behavior
In the mod, Whales sing a lot. This is to represent their singing in real life. Whales sing due to mating process and echolocation.
Trivia
Whales can be obtained in the LotsOMobs Mod and the AnimalsPlus Mod
Jeb hinted at whales being added into the actual game.
Even though they weren't added into the 1.13 update, they added faint whale sounds to the ocean ambience.